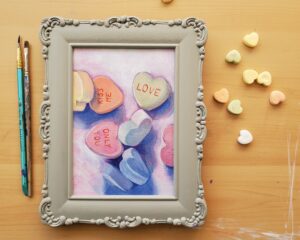 Carrie Feidt is offering a painting class for anyone with a sweet heart. Sunday February 13 beginning at 5 PM, join Carrie for a bit of painting fun with BYOB and snacks. Class will take 2-3 hours depending on your abilities, and you are free to leave when you are finished.
Learn to work from still life with a cluster of candy hearts at your work areas that you will try to replicate in a simple yet attractive style. You could even write new words on them, such as the family/cat/dog/other pet names, your significant other's name or the name of a friend. With so many options, class is open to anyone with a sweet heart, or a Sweetheart. Bring along one or more folks to have a fun experience with, or come alone and paint a gift.
Class is $45 per person. Book the event and an invoice will be emailed to you. Once you have paid, your booking will be confirmed. Payment can be made online with the invoice, or in the shop in person.